We're READY to show you what MyStrengthBook will look like. These screenshots are straight from our beta version that will be released in two weeks.  Some minor changes in design might still happen, but we're very excited to show you what we have so far.
A quick note on beta: we've decided to release beta to 100 athletes. We have selected our test group and look forward to making our public release once we've collected feedback from our beta.
Below are the four sections of MyStrengthBook:
Dashboard
Program Builder
Metrics
Competition Tracker
1.  Dashboard
The dashboard is the first screen you'll see when you log-in. It displays your most current workouts and training metrics. The dashboard can be viewed on a daily or weekly setting. The daily view shows what workout you have scheduled today, while the weekly view shows a snapshot of all the workouts you have programmed for the entire week. Whatever view you decide to toggle between, the metrics will change based on daily or weekly numbers.
Daily View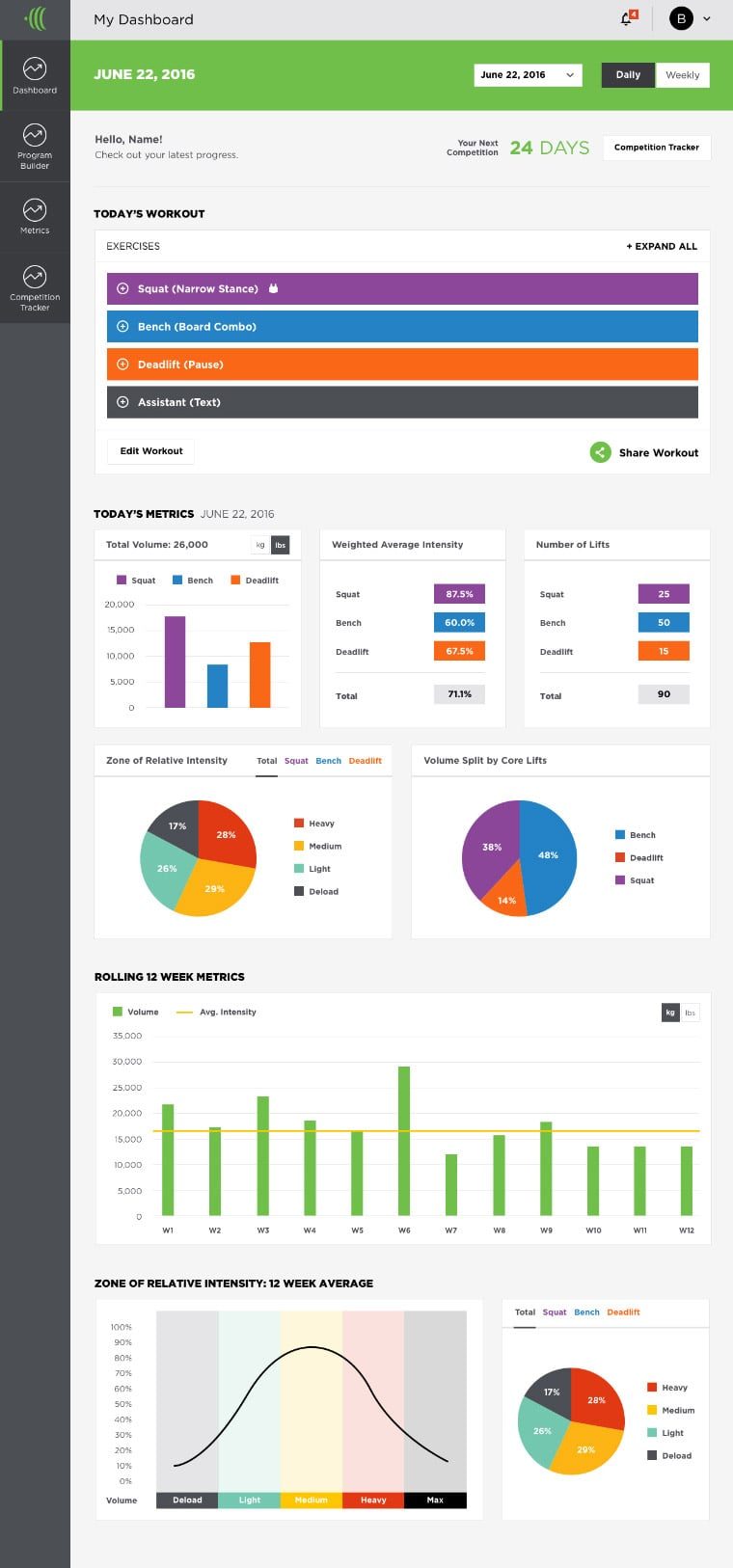 Weekly View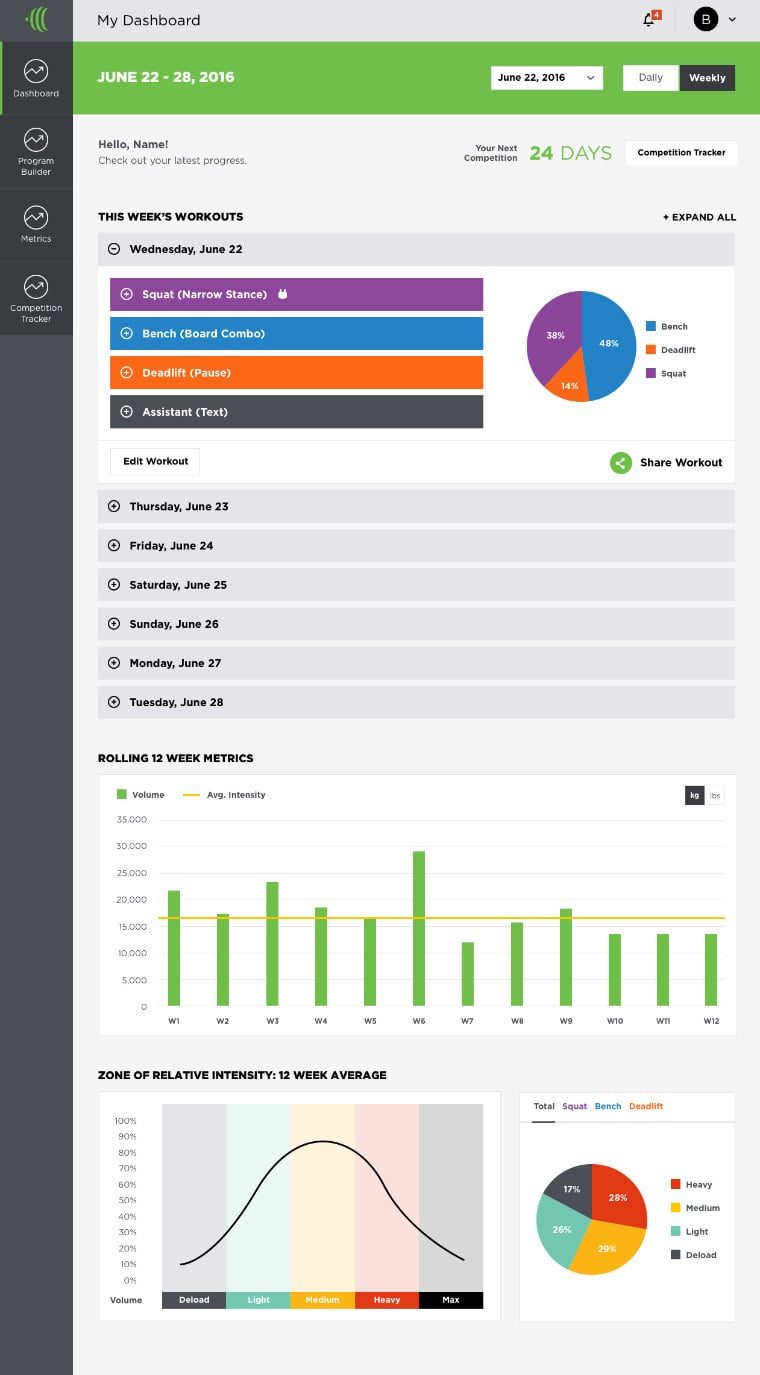 2. Program Builder
We are very proud of our program builder because it's the only one available that allows you to build workouts like a powerlifter.
Exercises
When adding an exercise to a workout you can choose a competition movement (squat, bench press, or deadlift), a secondary movement (any variation of a powerlifting movement), or an assistant movement (any non-powerlifting exercise). We also recognize that some athletes have unique exercises they perform. Therefore, we allow users to add exercises in order to create their own personal exercise database. Of course, there's an option of adding equipped movements and tracking those metrics separately from your raw lifts.
Intensity
The program builder allows athletes to create workouts using percentages, exact bar loads, or RPE.
Quick Metrics
When building a workout, you can view your exact training metrics for that individual day.
Copy a Workout
Once a workout is built it saves to a database so you can easily export or import that workout to another training day. This allows building full training cycles (weeks or months) easy to do.
3. Metrics
The metrics section allows you to select specific reports on your training. This section lets you segment your training into any date range or level of detail to identify trends and gaps. You'll be able to use this information to understand your training history and make educated decisions about how to build more effective workouts and programs.
In our first product release we will have 9 metrics that can be tracked and analyzed.  Below are three of those metrics:
(1) Volume, Average Intensity, and Peak Intensity: analyze volume overtime and compare with the average and peak intensities used to accumulate that volume.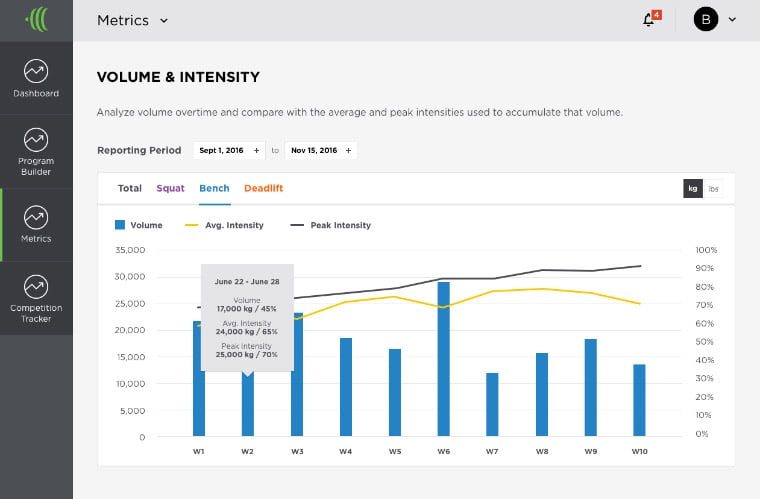 (2) Over/Under Baseline Volume: Analyze changes in volume as a percentage of your baseline to easily identify training progression.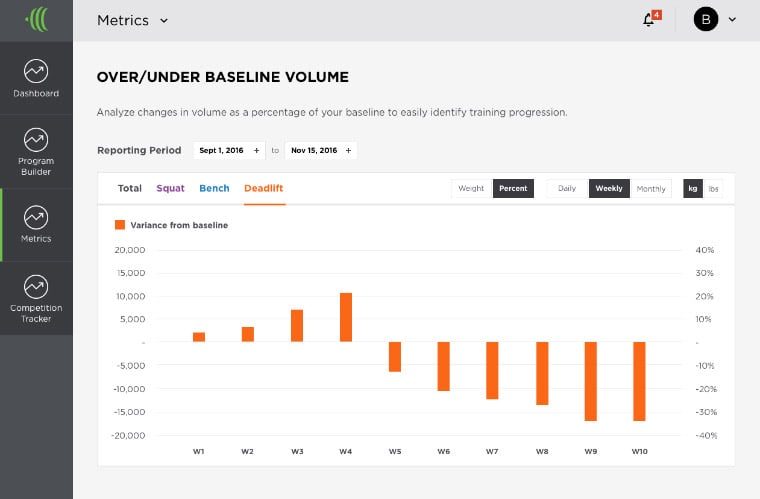 (3) Personal Record Table: Identify lifetime or custom range personal records for all exercises and rep ranges.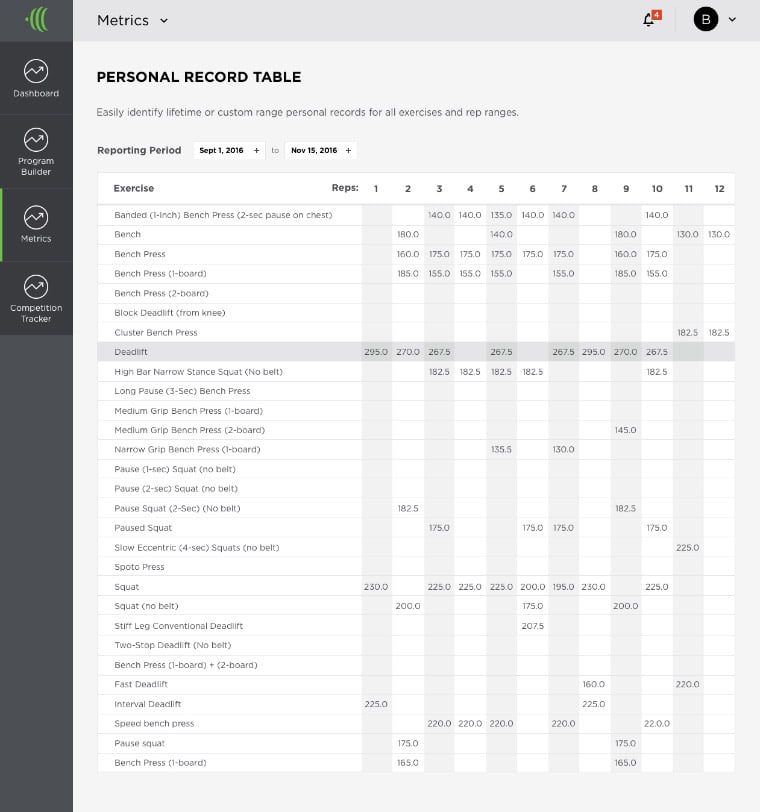 4.  Competition Tracker
The competition tracker allows you to track and analyze your powerliting meets. It serves as a way to know whether the training you've completed leading up to a particular competition has paid off.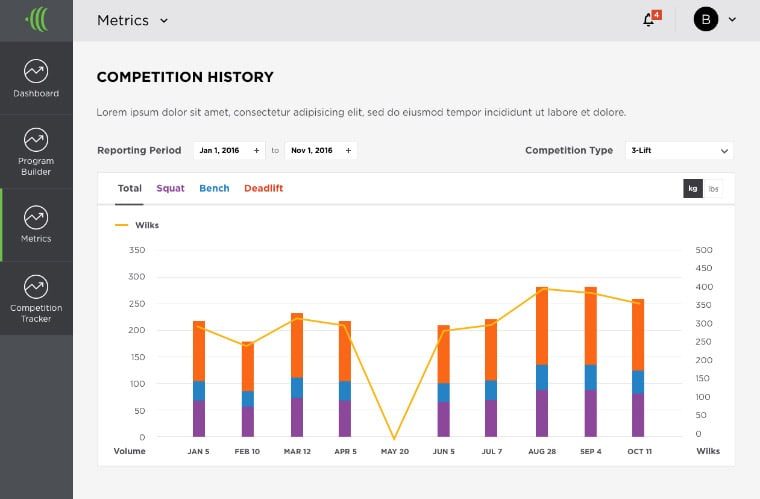 What is MyStrengthBook? It's a web application launching in summer 2016 that allows powerlifters to build workouts, plan training programs, and assess training metrics that lead to better performance. Sign-up to get notified when we launch and receive a free trial.