8-time IPF World Champion, Jen Thompson, shares her bench press program    

Jen started competing in powerlifting in 1999, and has risen to be one of the most dominant bench pressers in the World today.
Since Classic Powerlifting was introduced to the International Powerlifting Federation in 2011, through to 2016, Jen ranked as the #1 bench presser in the World based on Wilks out of both men and women.  In 2017, she remains in the top spot for women, and #2 out of both men and women.
Jen is 44 years old, stands at 5′ 5″, and competes in the 63kg (138 lbs) weight class.  Take a look at her benching 142.kg (314.2lbs):
Jen Thompson + MyStrengthBook
Jen just released two 12-week training cycles on MyStrengthBook — one bench-only cycle and one full powerlifting cycle.  The bench-only training cycle can be used as a standalone program, or you can write your own squat and deadlift workouts.  The full powerlifting cycle includes the exact same bench press workouts as the bench-only cycle, but includes Jen's prescriptions for squat and deadlift training.
These program models the exact training approach Jen uses to peak for competitions.
Jen's programs also comes with extremely detailed notes on how to select your training loads, advice on how to set-up and execute your bench press technique, and instructional videos on each exercise.
Let's talk about Jen's approach to bench programming, and dive deeper into her bench-only training cycle.
Bench Press Methodology
Jen's bench press methodology can be summed up in the following ways:
The main training variable being manipulated each week is intensity.  She uses a linear periodization model — so each block of training is designed to increase in intensity until the competition.
Each week alternates between 'something' heavy, and something that focuses on speed, either using the competition bench press or a variation.
The heavy work is centered around two specific rep ranges — either the 1 or 5 rep range.  The goal for the heavy work is to lift as much as possible — most often, leaving no reps in the tank to spare.
While the training loads are meant to increase linearly by a small amount each week, Jen recognizes that some weeks may not allow for a linear increase in load.  For example, an athlete may be scheduled to lift 150lbs for 5 reps, but perhaps only gets 4 reps.   In this instance, the athlete would be prescribed strategic reductions in load for the subsequent 1-2 weeks of training, before slowly ramping back up and attempting to complete either the same load (150lbs) or more for 5 reps.  Jen believes that plateaus in training are inevitable, but it's how athletes strategically re-organize training once they hit those plateaus that matter.
While percentages are programmed as a baseline — a place to start the work sets — athletes should feel compelled to increase the loads using rationale decision-making in order to challenge themselves within the prescribed rep range.  When Jen works out she may start with some general idea of the loads she will lift, but the actual weights that are increased from the previous weeks of training, whether it's 5lbs or 10lbs, is only determined as she starts ramping up to her top sets.
The method of using "overloads" is critical.  Jen uses several exercise variations to lift more weight than she can normally handle at a full range of motion.  For example, partial range, top-end movements such pin press lockouts, 3-board bench, and "uploads" are rotated throughout the training cycle.
A high degree of bench press variations are required to get stronger through each phase of the lift.  Upwards of 4 bench press variations are structured each training day. Jen's approach is to lift heavy (as stated above), but lift heavy across a variety of bench press exercises.  The exercise variations include different ranges of motions, grips, bench angles, and tempos (full list of exercises in Jen's training cycle listed below).
It's extremely important to do each exercise correctly with good form.  It is not appropriate to lift the weight in 'whatever fashion' that gets the bar from point A to B.  As such, Jen has created a series of videos that explain the intricacies of each lift and how to move within an efficient and safe range of motion.
How the training cycle is structured?
The bench-only training cycle is split into three 4-week blocks of training.  Each block increases in load and exercise complexity, with the final couple weeks of the cycle having a built-in taper to rest and peak for competition.
The weekly organization follows a 2-day split that includes:
Day 1 (Monday):  Competition Bench Press + 3-4 bench press variations
Day 2 Thursday):  1-2 bench press variations + shoulders + triceps
Athletes sometimes feel like their bench press is 'lagging'  behind their other powerlifting movements.  While Jen's training cycle can be used as a standalone bench-only program, athletes are recommended to use it in conjunction with their normal powerlifting routines.  For example, using this training cycle alongside their squat and deadlift programming, or other sport training.
Sample Training Week
This is an example of week 1 of Jen Thompson's Bench-Only Training Cycle.
NOTE:   Once this training cycle is loaded into your own MyStrengthBook calendar, the exact bar loads will automatically calculate based off a percentage of your Rep Maximum (RM). 
Week 1, Day 1: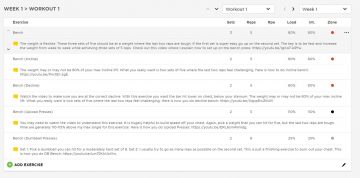 Week 1, Day 2:
Exercises
Bench Press Movements:
Bench Press
Pin Bench Press
Close Grip Bench Press
Incline Barbell Bench Press
Decline Barbell Bench Press
Decline Close Grip Bench Press
Banded Bench Press
Speed Bench Press
Bench Press "Uploads"
3-Board Bench Press
Soft Touch (JT) Bench Press
DB Bench Presses
Assistant Movements:
Barbell Shoulder Press
Tricep Pushdowns
Seated DB Military Press
Rear Delt Side Lateral Raises
Iron Crosses
Bar Dips
Getting Started
To access Jen's programs, you'll need a premium membership on MyStrengthBook.
Most athletes pay over $150-200 for online coaching, but Jen's training cycles are available on MyStrengthBook for only $29/month. You'll also get the benefit of being able to track her programs using the MyStrengthBook analytics platform to better understand what you do in the gym.
To get started sign-up for a FREE TRIAL, go to the Program Library, and add Jen's training cycle you're your calendar.
Looking for training advice or have questions about any of the training programs available on MyStrengthBook? Please book a time to chat with us HERE and one our coaches will set you up for success!