The Strength Guys have released a series of training cycles on the MyStrengthBook Program Library called "Shifting The Curve".
These programs break the one-size-fit-all model by using an innovative strength training tool that allows you to select the most optimal training frequency for powerlifting.   The tool is a filtering system where based on your training background, past results, and preferred number of training sessions per week, you select the appropriate training phase for your level.   You can think of this like a "choose your own adventure", but for powerlifting training.  There are 8 variations of the program in total in order to accommodate your current level of progression.
Shifting The Curve (STC) Filter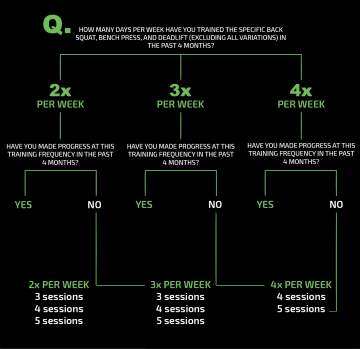 Starting at the top:  Ask yourself how many days per week you currently train the powerlifting movements
Frequency:  If you're progressing at your current level of training frequency (i.e. you're still gaining strength), then you will continue using the same frequency.  If your progress has stalled, then you will increase your training frequency in the powerlifting movemements.
Number of sessions:  Whether you prefer to train 3, 4, or 5 days per week, you will select the number of training sessions that suits your lifestyle best.
Using the STC Filter
Let's take an example.
I've been squatting, benching, and deadlifting twice per week for the past six months (2X training frequency).  After a recent 1RM assessment I've noticed that my lifts have only marginally improved, and I wasn't able to set a personal record on bench press.  Based on the STC filter, I would answer 'no' to seeing progress under my current training frequency.  The filter suggests that I increase my training frequency to 3X per week.  There are three programs that I can select with 3X frequency — 3 sessions, 4 sessions, or 5 sessions per week.  Since I prefer to train 4 sessions per week, I would select the program labelled 3X (training frequency), 4 sessions.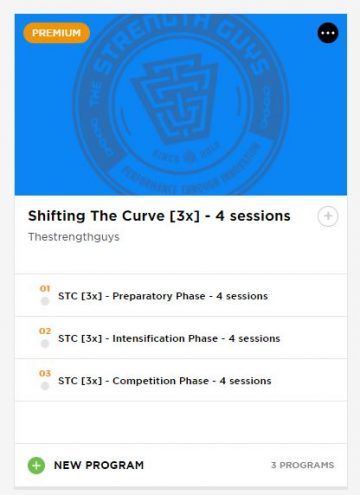 GETTING STARTED
To access the Shifting the Curve training cycles, you'll need a premium membership on MyStrengthBook.
To get started sign-up for a FREE TRIAL or DOWNLOAD our iOS app.  Then go to the Program Library, and add the STC training cycle you're your calendar.
Looking for training advice or have questions about any of the training programs available on MyStrengthBook? Please book a time to chat with us HERE and one our coaches will set you up for success!